The recent spate of suicide amongst students from the nation's tertiary institutions is an issue of grave concern. The last few weeks have seen relating to this development dominating headlines in both the print and electronic media with various sections of the citizenry even calling for national prayers to exorcise Ghana from any evil.
It is against this background that the African University College of Communications (AUCC) organized town hall meetings on Thursday and Friday March 23-24, 2017 at its Discovery House campus at Adabraka under the theme "Valuing life: Suicide is not the answer". The event was to educate students on issues relating to suicide and how to deal with suicidal tendencies.
Speaking at the event, the President of AUCC, Dr. G. Koryoe Anim-Wright advised students to become more conscious of their immediate environment in order to notice any changes with regards to the behavior of their peers. She said with that, friends will be able to Question any behavioural change, Persuade the affected persons to seek help and then Refer the situation to qualified persons for redress if need be.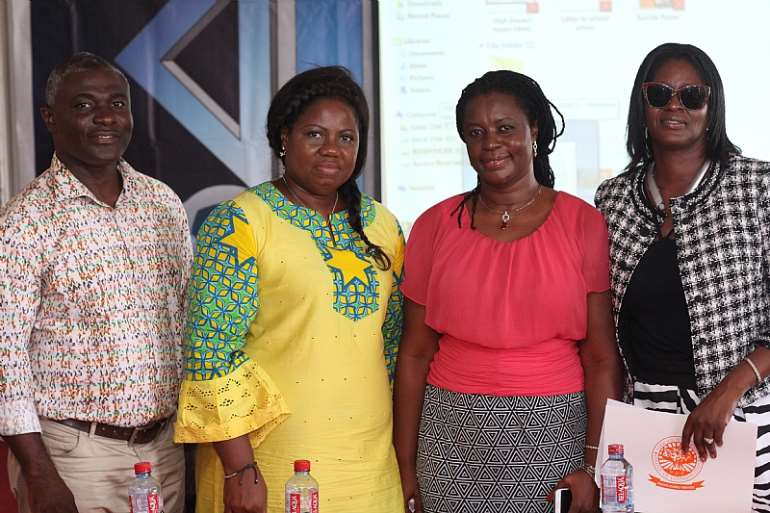 A Senior Lecturer at the Department of Social and Behavioural Sciences, University of Ghana, Dr. Emmanuel Asampong, said that emotional health is key in the life of every student. According to him, "Whenever emotion enters the door, reasoning flies through the window". He said managing misunderstandings in relationships is very important, revealing that talking is a therapy and that students who are suffering emotional trauma must be given the opportunity to express themselves and seek professional help. He added that research into suicidal tendencies in Ghana continues to show various psychosocial factors and in some cases mental illnesses which are strongly associated with this behaviour (especially among the youth).
He further advocated for amendment in the criminalization of attempted suicide persons because those who embark on such an act, already have defective brains. He urged participants to eschew all forms of inferiority complex.
Another speaker at the Town Hall Meeting, a social care practitioner, Barbara Spinns expressed concern about the judgmental nature of society, adding that there is the need for a paradigm shift in the way people with trauma are handled. She admonished the youth to speak to the right persons in difficult times. "One fundamental fact about life is knowing who you are", she said. She reiterated the need for the young people to take full control of their lives.
The Managing Director of Tansy Productions Limited, Catherine Forson, who doubles as founder of Prayer Chain Ghana and host of "Time with Catherine" on Sunny Fm was also present at the meeting and spoke to the issue of young people valuing life.
She recounted how she became pregnant out of wedlock at age 20, lost parental trust, suffered mockery and stigmatization from society, and how she was able to surmount the storms of life at that very young age. She said "the same way we have mountains in life, is the same way we have valleys". She therefore spoke about the need for all to recognize the ups and downs in life and respond appropriately.
Statistics from the Mental Health Authority (MHA) indicates that 95 per cent of attempted or completed suicide cases is as a result of mental illness.
By Benjamin Boateng